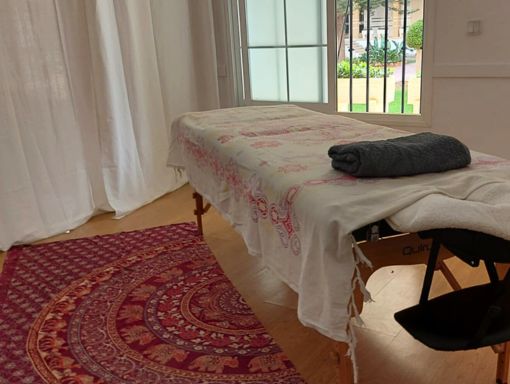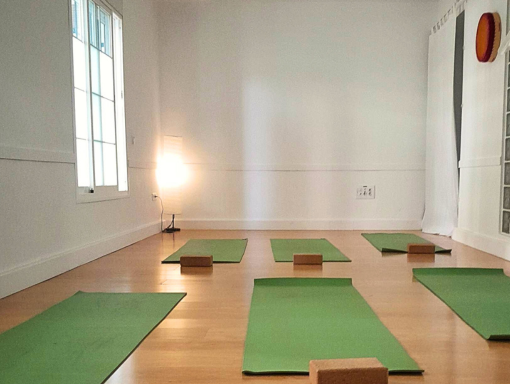 Are you an Ayurvedic or massage therapist, or maybe a yoga teacher? Or would you like to rent a place for other classes, events or workshops?
We have a lovely, cosy space in our Saharogya- Centro Ayurveda y Yoga which is located by Paseo Maritimo behind the Mosque in Fuengirola.
It is a bright and peaceful room with wooden floors, white walls and three windows that open to a private garden.
It is available to rent outside of our class and treatment schedule. The space is best suitable for massage therapists and other treatments, yoga classes, and workshops.
It can fit easily a massage table or two (if you liked to work in pairs); 10 yoga mats or around 20 people seated.

Amenities in our premises:
wifi
shower
microwave
fridge
filtered water (cold/hot)
massage table
Rent by the hour:
10€/hour + VAT  (Mon-Fri)
Weekends (between 9am-9pm):
15€/hour + VAT 
Half day €50 + VAT 
Whole day €90 + VAT 
Weekend (full) €165 + VAT 
If you have any questions or would like to make rental arrangements, please contact us by emailing info@saharogya.es or calling +34 613 23 54 07 / Taina.
Saharogya – Centro Ayurveda y Yoga
Calle Héroes de Baler 6 A,
Edificio Doña Sofia1, portal 2, bajo 9
26940 Fuengirola, Malaga, Spain.
Contact us
SAHAROGYA – CENTRO AYURVEDA Y YOGA
Paseo Marítimo Rey de España 6, local 9 Bajo
(Acceso por Calle Héroes de Baler)
29640 Fuengirola, Malaga
España
+34 625 99 5505
info@saharogya.es