We offer private yoga classes:
Would you like to practice yoga individually rather than in a group setting? Alternatively, do you have a group of friends and desire a private yoga class? We offer personalized private classes that can take place at your home (in the Fuengirola area), on the beach, or at our center. Feel free to reach out to us via phone/whatsapp/email, and we can discuss the details further!
Prices: Private classes
50€/75 min. class (under 5 people)
60€/75 min. class (over 5 people)
Yoga traditions available: Hatha Yoga, Vinyasa Flow, Yin Yoga
Bookings & inquiries:
Tel. +34 613 23 54 07 / Taina
Email: info@saharogya.es
Yoga is known for balancing the body, mind, and soul. It is a practice that helps to relieve stress and anxiety, enhance general well-being, and enables us to be in this moment creating more harmony and stability in your life.
A regular practice of yoga will strengthen your body, improve flexibility, mobility, and balance. It helps us to be more relaxed and within our body.
In addition to different asana series and moves, yoga classes usually consist of breathing exercises, meditation, and relaxation.
With a wide range of yoga types, there is a practice suitable for everyone.
Weekly yoga schedule:
Mon 6pm -7.15pm: Yin yoga with Taina
Tue 6pm-7.15pm: Gentle Hatha Yoga with Taina
Teaching in English/Finnish
Prices: 
Drop in: 12€
1xweek (valid for 30 days): 40€
10xclasses pass (valid for 6 months): 90€
Please reserve your spot beforehand:
Tel. +34 613 23 54 07 / Taina
Email: taina@saharogya.es
About yoga styles
Yin Yoga:
Experience the profound effects of Yin Yoga, a slow-paced and passive style that encourages you to hold poses for extended periods. Each posture, lasting from 1 to 5 minutes or even longer, targets your deeper connective tissues, enhancing flexibility and improving joint mobility. Find your inner peace through deep stretching and relaxation. In addition, we use Tibetan singing bowls to offer a sound healing session and deepen your connection with body, mind and soul.
Hatha Yoga:
Explore the rich tradition of Hatha Yoga, one of the most widely practiced forms of yoga worldwide. Hatha yoga involves a series of physical postures or asanas designed to align and balance your body. It enhances flexibility and cultivates strength, with poses that range from simple to more complex. Discover harmony in body and mind as you connect with your inner strength.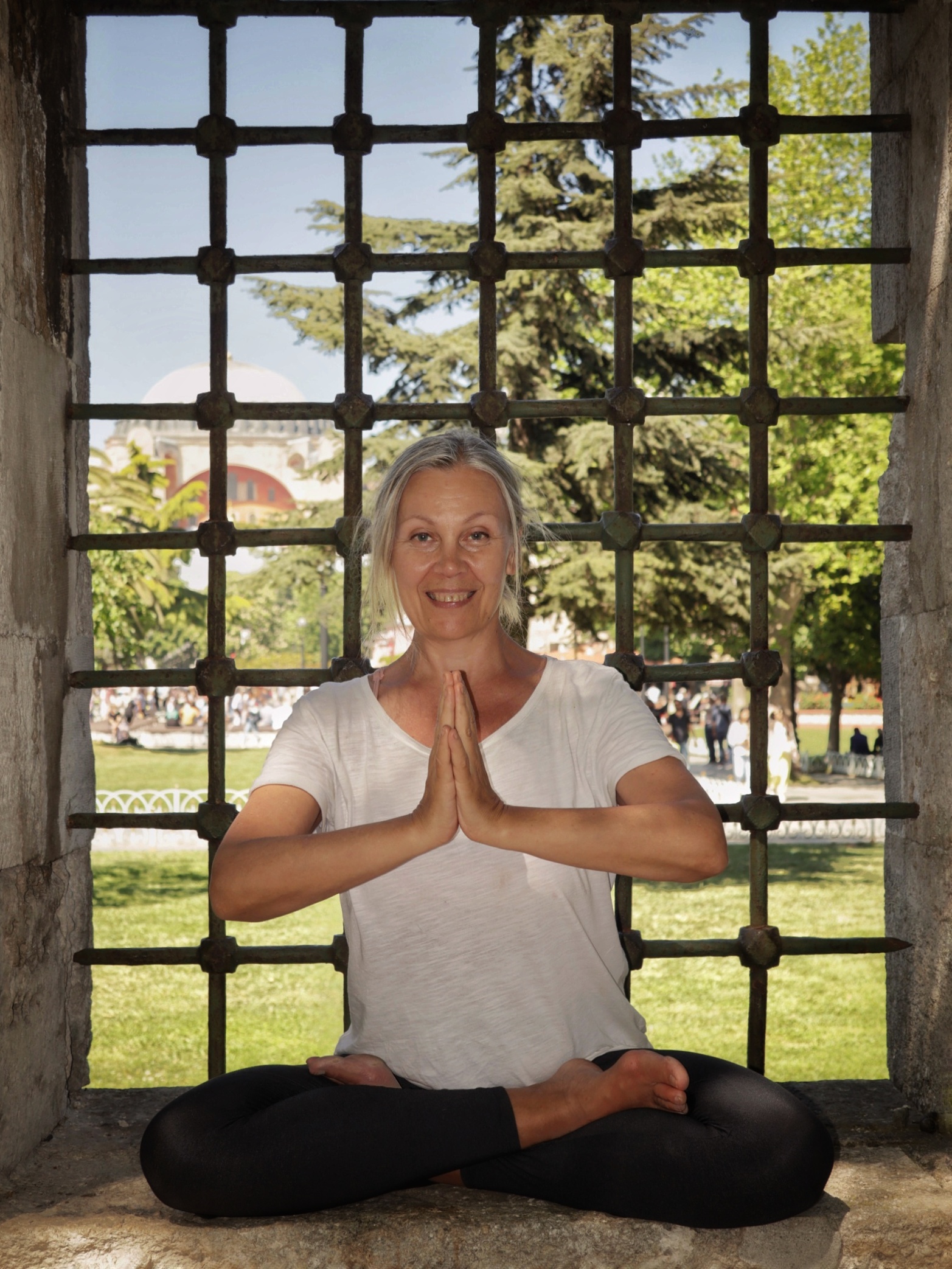 Taina Mansikkamaki
I am a yoga teacher and Reiki practitioner with a deep passion for holistic health and well-being.
My journey into yoga commenced approximately 40 years ago when I attended my first yoga class. It wasn't until my transformative yoga teacher training in India in 2014 that I truly became enamored with the practice.
Yoga serves as a sanctuary for my body and mind, providing both physical health and mental serenity. More significantly, it has unveiled my life purpose — to unearth the enchantment in life, guide others in discovering their unique paths to holistic mind-body balance, and motivate them to unlock the power within their souls.
Nature holds a special place in my heart, and I find solace in meditating outdoors, connecting with Mother Earth, and grounding myself in the beauty of the natural world.
As an ardent reader and a perpetual student of spiritual realms, I firmly believe that age is no barrier to acquiring new knowledge. Life, to me, is an ever-evolving journey of learning and growth.
We are all both teachers and students on this journey, and I find immense joy in connecting with people. If you're interested in exploring yoga together, feel free to reach out—I'd be delighted to share this practice with you!
RYT-200 Mindful Hatha Yoga teacher
RYT-200 Vinyasa Flow Yoga teacher
RYT-200 Tantra Kundalini Yoga teacher
RYT-60 Yin Yoga teacher
Asahi Nordic Instructor
Ushui Reiki Master and Karuni Ki Reiki Master
SAHAROGYA – CENTRO AYURVEDA Y YOGA
Calle Héroes de Baler 6 A,
Edificio Doña Sofia1, portal 2, bajo 9, Fuengirola, Málaga, SPAIN
+34 625 99 5505
info@saharogya.es
This information is not intended to cure, prevent, diagnose, or treat any disease. Before making any changes to your diet, consult your doctor. The information on this web page has not been approved by conventional medical establishments or by the competent health authorities. The information is for educational purposes only and comes from a wide variety of sources and authors.
© Saharogya – Centro Ayurveda y Yoga 2023