AYURVEDIC DETOX
Urban retreat in Fuengirola
The detox is suitable for everyone but we recommend that you discuss with your GP first if you have any ailments, injuries, recent surgeries or you are taking medication.
Gentle Cleansing for Your Mind and Body
Feeling tired and sluggish? Ready to embark on a journey to a healthier and revitalized you?
Look no further than our Urban Ayurvedic Detox Retreat in the serene coastal town of Fuengirola. This is not just any ordinary detox; it's a gentle and rejuvenating experience that will pamper your body both internally and externally.
Our carefully curated detox program prepares your body and mind for a new way of life, drawing from the ancient wisdom of Ayurveda. By removing toxic waste (ama) from your body and clearing your mind, you'll feel a surge of energy and vitality like never before. We focus on supporting digestion and its well-being through Ayurvedic massage, yoga and a lighter diet.
Detox lasts 5 days, from Monday to Friday, and the treatments/yoga are in the mornings, leaving participants the rest of the day to relax. You can conveniently combine it with, for example, your vacation and visit our treatments from your accommodation.
Our retreat is designed for individuals and small groups, ensuring a safe and supportive atmosphere for your journey.
Listen to your body
Wondering if this detox is right for you? Look out for these signs:
Digestive troubles or feeling heavy and congested 

Sleep issues and fatigue 

Stress and anxiety 

Difficulty concentrating 

Difficulty listening to your needs (in terms of sleep, food, rest etc.)

Feeling overwhelmed and powerless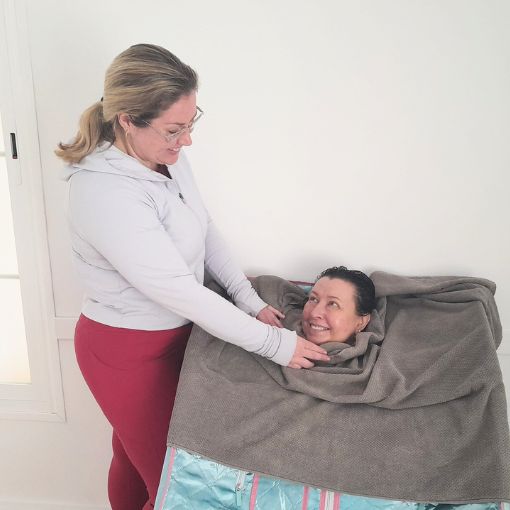 Benefits of Our Ayurvedic Detox
Experience the multitude of benefits our Ayurvedic detox offers:
Supports maintaining a healthy weight

Strengthens immunity

Calms the mind and nervous system

Increases energy and vitality

Grounds and brings clarity 

Prepares tissues for receiving nutrition and regeneration

Eliminates stress.

Promotes a healthy sleep pattern.

Eases joint pain

Brightens the skin
Daily Programme
8am-9.15 am Yin yoga/Gentle Hatha yoga

9.15am-9.30am Tea break and relaxation
From 9.30am Ayurvedic Abhyanga massage and steam treatment 45 min.
(massage 20-30 min. / steam treatment 10-15 min.)
The massage times might vary depending on the number of people in the group.
Massage appointments will be agreed with each person separately before the start of the detox.
With treatments and yoga sessions in the morning, you'll have the entire day to unwind and relax in beautiful Fuengirola and its surroundings.
Gentle Yoga/Yin Yoga:
Using asana practice and breathing exercises, we aim to move lymphatic fluids and blood circulation, massage internal organs and exercise muscles and tissues.
We proceed at a calm pace, which gives time for introspection and finding your own breathing rhythm. We end the class with meditation and relaxation, balancing the mind and body. If wweather permits, we can do yoga on the beach.
Ayurvedic Abhyanga Massage:
This is done with heated herbal oils that are massaged into the head, face, hands, stomach, legs, back and shoulders.
Ayurvedic Steam Treatment:
The client sits in an Ayurvedic steam tent, which helps toxins to leave the body. Our facilities also have a shower room where you can have a shower after the treatment.
Additional services
Enhance your detox experience with our individual consultations led by an Ayurvedic doctor or therapist at the beginning of your visit or remotely before the visit for a separate fee.
Please note that a basic individual Ayurvedic consultation led by an Ayurvedic therapist is included in the package.
You can also book a balancing and harmonising Reiki healing session for a separate fee.
Detox self-care package
In Ayurvedic cleansing, the focus is on the digestion system. Therefore, we suggest doing a colon cleanse during the detox. Cleansing is recommended to be done before meals, so you could do it either before lunch or dinner. We will provide guidance if necessary.
You can support cleansing with this self-care package, which includes:
1xTriphala supplement
1xPeach detox green tea
1xDashamoola herbal mix for colon cleansing
1×100 ml sesame oil for colon cleansing and skin care
1x colon care enema bag
1x tongue scraper
The price is €64.90.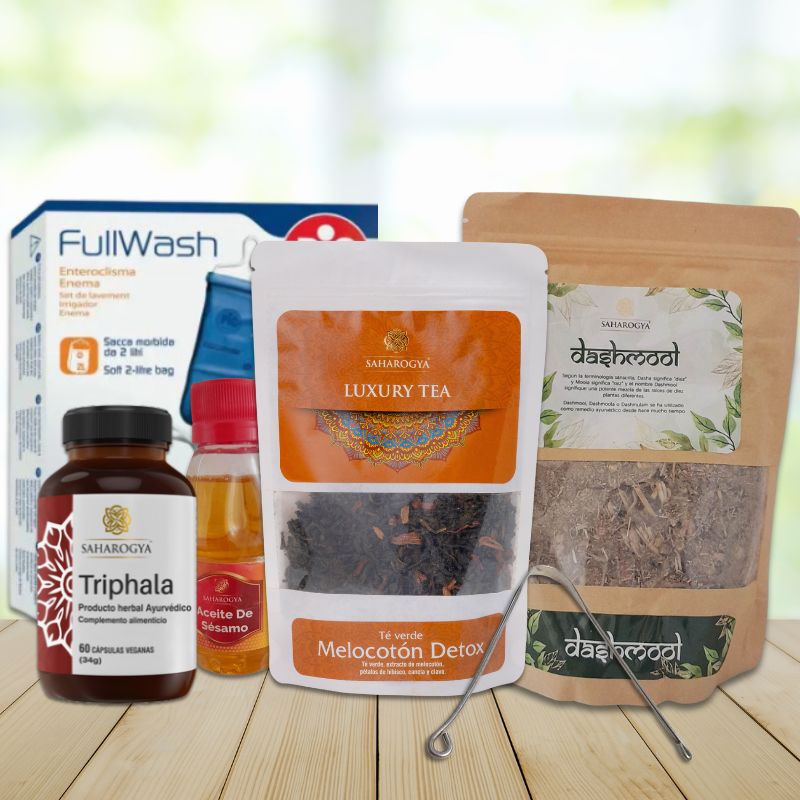 Meet the teachers
Your retreat teachers, Elisa Jouttunpaa and Taina Mansikkamaki, bring years of experience in Ayurvedic therapies and holistic health practices. Their passion for nature and holistic healing will inspire you to unlock the power within yourself.
Elisa
An Ayurvedic therapist and Ayurvedic massage therapist, she is also a licenced massage therapist who studied a Finnish degree with traditional and sports massage.
Her mission is to help people to find  the most suitable holistic methods to take best care of theirselves. As ayurveda teaches,  she also believes that we all are very unique and therefore we have individual needs for routines, selfcare and treatments.
Taina
A yoga teacher and Reiki practitioner, she is passionate about holistic health and well-being.
Through yoga and ayurveda, she has found her life purpose: discovering the magic in life and assisting other people in their individual welleness journey and inspiring them to unlock the power of their soul.
Book Your Urban Ayurvedic Detox Retreat Today
Seize the opportunity to revitalize your mind and body at our Urban Ayurvedic Detox Retreat in Fuengirola. Whether you're seeking relaxation or a transformative experience, this detox is for everyone. Reach out to us now to organize a detox retreat for your group or family.
Price and content
1 x Individual Ayurvedic consultation at the start of the detox
1 x  Ayurvedic self-care instructions and Dinacharya guide book
5 x Ayurvedic massage and stem treatment (once a day for 5 days)
5 x Yoga class (including meditation & relaxation practices)
(once a day for 5 days)
+ Guidance & support throughout the detox 
Price: 449€ (incl. VAT)
Embrace the Power of Ayurveda, Embrace a New You!